When we talk about what makes a good photo, the first things that come to mind is can we actually see it aka is it exposed correctly. The photography triangle aka exposure triangle is the balancing of aperture, shutter speed and ISO in order to ensure you have good lighting, sharp image, and artistically pleasing to the eye ie. a good composition.
What is exposure?
The Photography Triangle is the balancing of three camera settings in order to achieve a certain level of light (aka how light or dark it appears).Your exposure is made up of 3 separate elements; aperture, shutter speed and iso.
Firstly: the light passes through the aperture which determines how much light comes in. The wider apertures allow more light through compared to the narrow aperture.
Secondly: the shutter goes up to allowing light onto the sensor/film for a certain amount of time. Slow shutter speeds allow more light through compared to faster shutter speeds.
Finally: the ISO determines how the camera's sensor processes this light. The bigger the ISO the more sensitivity to light.
In order to achieve your ideal exposure you'll need to choose the best camera mode for your situation.
How to get proper exposure with the photography triangle?
There are two main ways to ensure you achieve the right exposure.
1) Use the Camera modes available to you, like aperture priority. This will allow you to choose 1 main setting, such as your aperture and then the computer will do it's best to correct the other settings to achieve the right exposure.
2) My preferred method is simple to shoot in Manual. You'll need to balance the exposure yourself, you can do this by changing one. However, you must then change the others in order to maintain the correct exposure. While at first thing seems overwhelming and incredibly daunting. Before I show you how though you need to understand how much exposure you currently have.
How to use the exposure meter (exposure indicator) to ensure you nail your exposure every time
Every new digital camera that has manual mode, uses an exposure meter to help you work out how bright the scene currently is before you take the photo.
Canon Meter
How to read the exposure meter / indicator
The exposure meter can be found in your viewfinder, while in manual mode. It allows you to see whether your image is currently too dark (underexposed) or too bright (over exposed.) As you change your settlings it too will move and once you have balanced the photography triangle your exposure indicator will sit in the middle.
Nikon Meter
Learn manual camera settings and how to control exposure
Based on your result you can now adjust your settlings accordingly, if you're still feeling a little lost then I recommend you check out my FREE Masterclass training on Mastering Manual Mode.
How do you adjust the exposure of a triangle?
To adjust your exposure in manual mode you simply need to adjust each side of the triangle, aperture, shutter speed or ISO. Each one affects your exposure in different ways and by adjusting one you will also affect the others so knowing how these work will help you achieve the exposure that you want.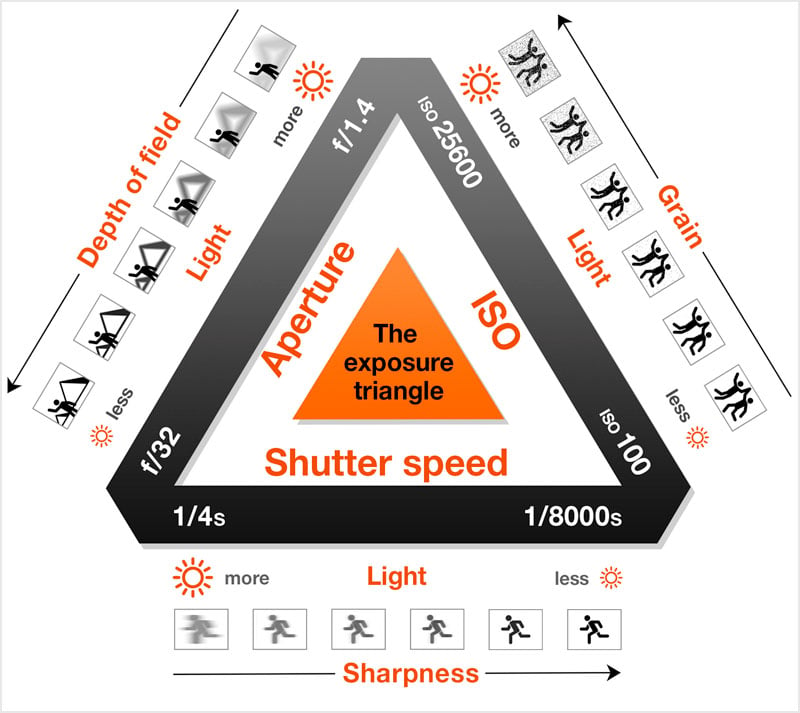 You can see from the photography triangle above how adjusting one side of the photography triangle affects the other two sides:
Click here to download a photography cheat-sheet that you can keep on your phone or print out to help you remember what each photography setting is called and which photography setting it relates to.